Shopping Cart
Your Cart is Empty
There was an error with PayPal
Click here to try again
Thank you for your business!
You should be receiving an order confirmation from Paypal shortly.
Exit Shopping Cart
| | |
| --- | --- |
| Posted on February 22, 2016 at 10:15 AM | |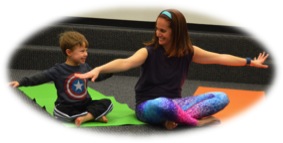 Photo by: Jenny Simon Tabak
Article By, Jessica Brown
It seems like everywhere you go all you hear about is mindfulness and yoga.
Everyone has their own opinion on the best type of yoga (hot, vinyasa, yin, etc.), but the truth is that yoga is not one size fits all. Kind of like our kids right? We all know that yoga is beneficial for young children.
The New York Post even wrote an article about it this past December "5 Reasons You Should Be Doing Yoga With Your Kid". The article states "Nearly 2 million kids ages 4 to 17 channeled their inner yogis between 2007 and 2012, according to a study by the National Institutes of Health."
However, how about kids who are younger? You may think that they aren't "developed enough" or "have a long enough attention span." These things are all true, except they are the exact reasons why they SHOULD be practicing yoga.
During their preschool years these little yogis are just starting to learn what their bodies can do. And trust me, their bodies CAN do!
Yoga helps them safely explore poses using their imaginations to keep their attention and burn off some of that never-ending energy. So they can stay focused for the next part of their day, yoga also encourages the use of mindfulness and creativeness to ease transitions or changes, which are often challenging for these young ones. For me it all falls apart when trying to leave the house. Lately I have been using this little trick to get things moving a little faster. When its time to start getting ready to leave, give yourself a little more time on top of that. Ask your child to pretend he or she is a bird and together you are going to "fly" to your next activity. Does baby bird have to use the bathroom? Does mamma bird know where her keys are? While helping your child with their shoes (since you will already be in a in a seated position) wave your arms slowly like a bird up with a deep breath in and down with a deep breath out. Then you explain that the mamma bird is going to put on your shoes while your child continues to fly. You then explain that when they are all ready, they can stand up and fly, with mamma bird of course, right out the door!
I know what you are thinking.This is time consuming and who has that? I hear ya. However as time goes on you can move on to other animals and siblings can get in on the fun to help keep the momentum going. Sometimes in the winter we like to do our "bear walks" (downward facing dog on tip toes) who have to put on their "bear coats" to come out of hibernation. So practice yoga with your little ones. Even if it is for a few minutes each day and let your imagination take flight!
Categories: None
/